Multi-site installation in and around Piazza San Marco
4th November 2016 – 8th January 2017
Exhibition curated by We are here Venice and Eleonora Sovrani
This multi-site exhibition brings together experiences and impressions, images and other information that reveal the on-going, difficult relationship with water and periodic flooding among the businesses that make up the Associazione Piazza San Marco (APSM).
The fourteen boutiques, galleries, shops, bars, restaurants and hotels located around the Piazza and in the immediate surroundings (shown on the map/postcards distributed via shops and hotels throughout Venice) participating in the 'distributed exhibition' are identifiable by the water line across their windows marking the level reached on 4th November 1966.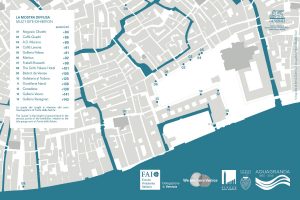 The thematic installations, created specially by the artist Eleonora Sovrani, to investigate water levels range from networks of tide gauges in the lagoon to describing practical measures adopted by the different businesses, such as placing equipment and furnishings on leg extensions or permanent interventions to raise ground levels. The artist's work is based on evidence collected 'in the field' and structured in a grid of technical and scientific references by Jane da Mosto.
…the anniversary of the tragic 'Aqua Granda' of 1966 holds two meanings for us: reflection and commemoration, and an ideal occasion on which to revive the topic of a future Piazza San Marco without water.
This book is a vital tool for beginning this discussion. Let's hope that sound reflection will be quickly followed by firm decisions.
From the introduction by Alberto Nardi (President of Associazione Piazza San Marco) to the book Acqua in Piazza.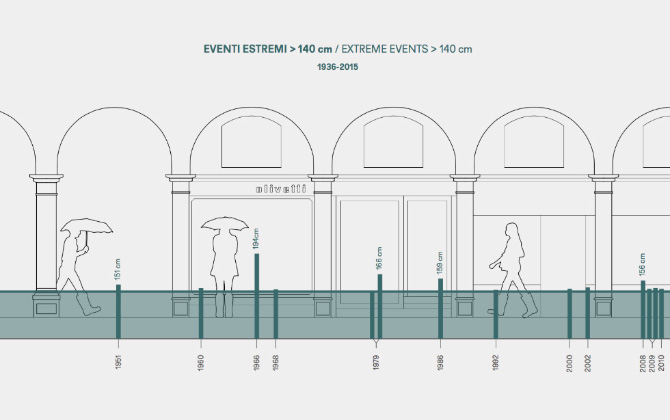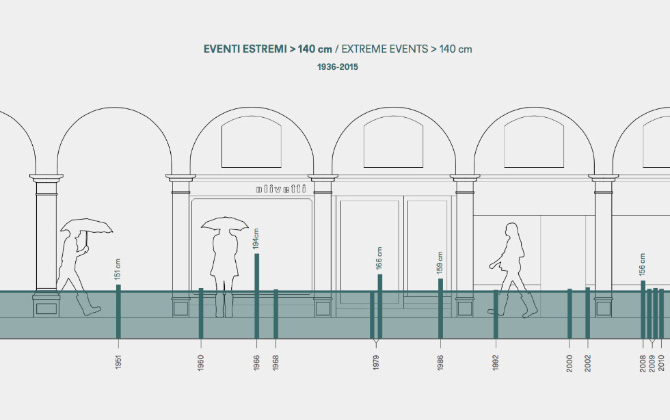 Click the image to see part of the exhibition in pdf format (7MB).
---


---
LINKS