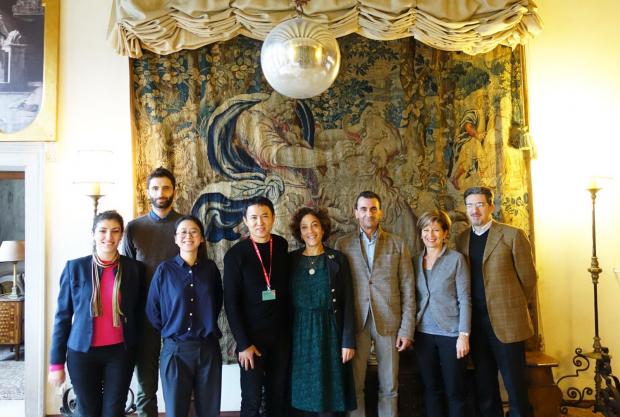 Read the article on the website here or the text as below:
Si è conclusa questa mattina la raccolta fondi promossa dall'Arts Council Korea 2017 Venice Biennale Korean Pavilion Exhibition Team e We are here Venice a favore del Centro Maree. Arts Council Korea con il suo supporto concreto alla raccolta fondi tra i visitatori del padiglione Corea ai Giardini Biennale, ha inteso ribadire il messaggio che il curatore Lee Daehyung ha veicolato attraverso la tematica espositiva di quest'anno (Counterbalance: The Stone and the Mountain).
We Are Here Venice, associazione non a scopo di lucro con finalità di carattere culturale, sociale e ambientale, volte ad analizzare e promuovere nuovi strumenti per un futuro migliore e più sostenibile per Venezia, i suoi abitanti e la sua laguna, ha voluto rilanciare la connessione tra il Centro Maree e la sfera artistico-culturale, per sostenere attività vitali per la città.
La raccolta delle donazioni è quindi fulcro di bilanciamento tra lo spazio espositivo e l'ambiente circostante, per agire in maniera consapevole e dare vita ad attività di salvaguardia. I fondi raccolti verranno utilizzati per il ripristino della cabina di monitoraggio dei livelli di marea e onda alla Misericordia, stazione funzionale alla definizione dei parametri di navigabilità dei trasporti pubblici da e per il Canal Grande, ma soprattutto per i servizi di emergenza.
Incontrando  i responsabili coreani del progetto e i rappresentanti di We are here Venice l'assessore alla Protezione civile Giorgio D'Este ha espresso un ringraziamento a nome dell'Amministrazione comunale per il supporto prestato. "Venezia deve rimanere al centro dei nostri impegni al fine di contribuire fattivamente a preservare e rispettare la città. Auspichiamo che questo momento di incontro possa tradursi in un percorso sempre più significativo da estendere a chi vuole porre la giusta attenzione e considerazione alla Città più bella del mondo".
I tecnici del Centro Maree hanno invece sottolineato come le donazioni ricevute provengano da visitatori di almeno 28 diversi paesi del mondo. "Negli ultimi anni sono state molte le autorità internazionali competenti in materia di Protezione Civile che hanno fatto visita al Centro Maree per condividere le buone prassi sperimentate e messe a regime a Venezia".
Venezia, 26 novembre 2017