Peggy Guggenheim Collection (PGC) to plan a series of events that would have a direct impact in terms of the UN Sustainable Development Goals – specifically, goals 4, 11, 14 and 13 were targeted (Quality Education, Life Under Water, Sustainable Cities and Communities, and Partnerships for the Goals). Our objective was to promote activities that would take people beyond the virtual world and help them to experience their local environment. The events began with a Zoom lecture by Jane da Mosto, who provided an overview of WahV's work on the local environment in Venice.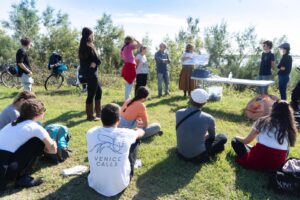 © Federico Sutera The first event in the series was a beach and barena clean-up at Sant'Erasmo, organised with logistical support from local volunteer group Venice Calls. Following a walk across the island and an introductory talk about key elements of the island's ecosystem, WahV staff, interns of the PGC and volunteers from Venice Calls were joined by local residents (about 25 people in total) and together cleared almost 130kg of rubbish – ranging from cigarette butts to toys and furniture.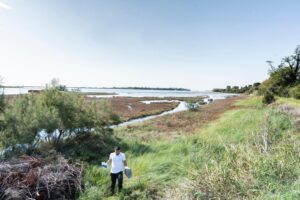 © Federico Sutera A second clean-up took place in collaboration with Masegni e Nizioleti (a local volunteer group concerned with keeping the streets of Venice clean) and the rowing club Settemari. PGC interns were joined this time by the Erasmus Student Network and more local volunteers. Members of the rowing club transported more than 30 participants in traditional boats to remove harmful waste from the city's network of canals.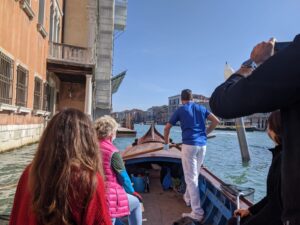 © Kasia Ruszkowski These events are testament to how effectively different organisations can work together in Venice to improve living conditions in the city, and show how even temporary residents can make a positive contribution. With many thanks to the Peggy Guggenheim Collection, Venice Calls, Masegni e Nizioleti, Settemari Rowing Club, The Erasmus Student Network and the residents of Sant'Erasmo.

The ASviS Sustainable Development Festival is a national awareness-raising campaign in Italy, held with the aim of spreading a culture of sustainability throughout Italy. It is part of the UN 2030 Agenda. We are here Venice teamed up with the