Drawing on our anti-cruise ship poster campaigns, which have been photographed and shared by hundreds of people since they began three years ago, Back soon (but better) sees WahV hand over the recognisable posters to residents across Venice for them to remake, adapt and illustrate with their own ideas for ways to improve the city post-coronavirus.
The result is 31 unique posters, each made by hand. Suggestions include putting Venice forward as the capital of smart working and increasing transport by rowing.
The posters are on display throughout May 2020 around the calli and campi of Venice and are documented on WahV's Instagram account @weareherevenice.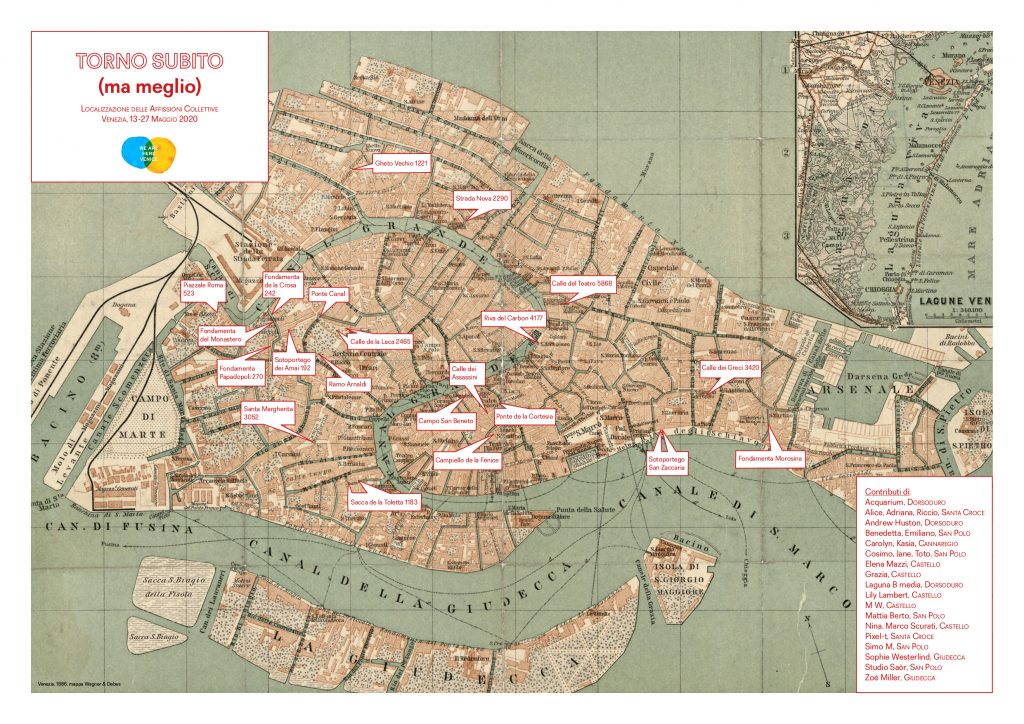 Created in response to the coronavirus and subsequent lockdown, the project highlights the importance of Venetian culture, the necessity of attracting more residents, and the urgent need to protect the city's lagoon system.
Since 2017, WahV has used the city's bill posting service to share information about the cruise industry's impact on Venice and the rest of the world, communicating up-to-date and reliable research and statistics in a clear and easily-digested format. Back soon (but better) builds on this awareness-raising work, involving Venetian residents in the campaign to rethink the city together. The project reuses existing materials while giving participants total freedom with their designs.
If you would like a poster to rework, get in touch at info@weareherevenice.org.
With thanks to those who contributed their designs to the initiative:
Acquarium, Alice, Adriana, Riccio, Andrew Huston, Benedetta, Emiliano, Carolyn, Kasia, Cosimo, Jane, Toto, Elena Mazzi, Grazia, Laguna B media, Lily Lambert, M W, Mattia Berto, Nina, Marco Scurati, Pixel-t, Simo M, Sophie Westerlind, Studio Saòr, Zoé Miller