The Covid-19 emergency and the consequent lockdowns during 2020 have unmasked, especially for permanent residents, a different aspect of the city of Venice: not only empty of inhabitants and basic services well distributed throughout the city area, but also characterised by few public green spaces, many of which are not adequately maintained for their total fruition and appreciation. According to the World Health Organisation, there is a tangible need to enjoy a green space near one's home. The increase of green spaces includes the possibility of applying nature-based solutions to enhance the quality of the urban environment, increase local resilience and promote sustainable lifestyles, improving both the health and well-being of citizens.
Building on WahV's mission, dedicated to the preservation and enhancement of Venice as a living city, the 'Green Spaces' project aims to raise awareness and promote active citizenship activities on the most neglected green areas. The project is developed around two main objectives:
– to provide a renewed citizen awareness (and knowledge) on the theme of urban green areas and the preservation of biodiversity, and
– to promote a platform for a more sustainable Venetian lifestyle through the correct use of accessible green spaces in order to improve the quality of city life.
Through various socio-urbanist methodologies, extending the experience of the Radical Observation initiative developed together with Urbaniahoeve on the occasion of the Architecture Biennale 2021, and based on the city's experience we will propose "active citizenship" activities to regenerate the green spaces of the city and the islands through meetings, workshops with local and international experts and theoretical and practical educational activities.
Our strategy is based on sharing and co-designing with local associations and institutions in order to optimise and enhance local knowledge.
The "Green Spaces" project is closely linked to the achievement of the SDGs (mainly 4,11,13,15,17) and will be assessed on these in terms of its impact.
Many other initiatives are planned and will be shared in the near future. As an active citizenship project, we invite everyone to collaborate and share their experience. Write to spaziverdi@weareherevenice.org or leave us a message directly in the box hanging in the public green space in front of the Church of Sant'Anna in Castello, Venice.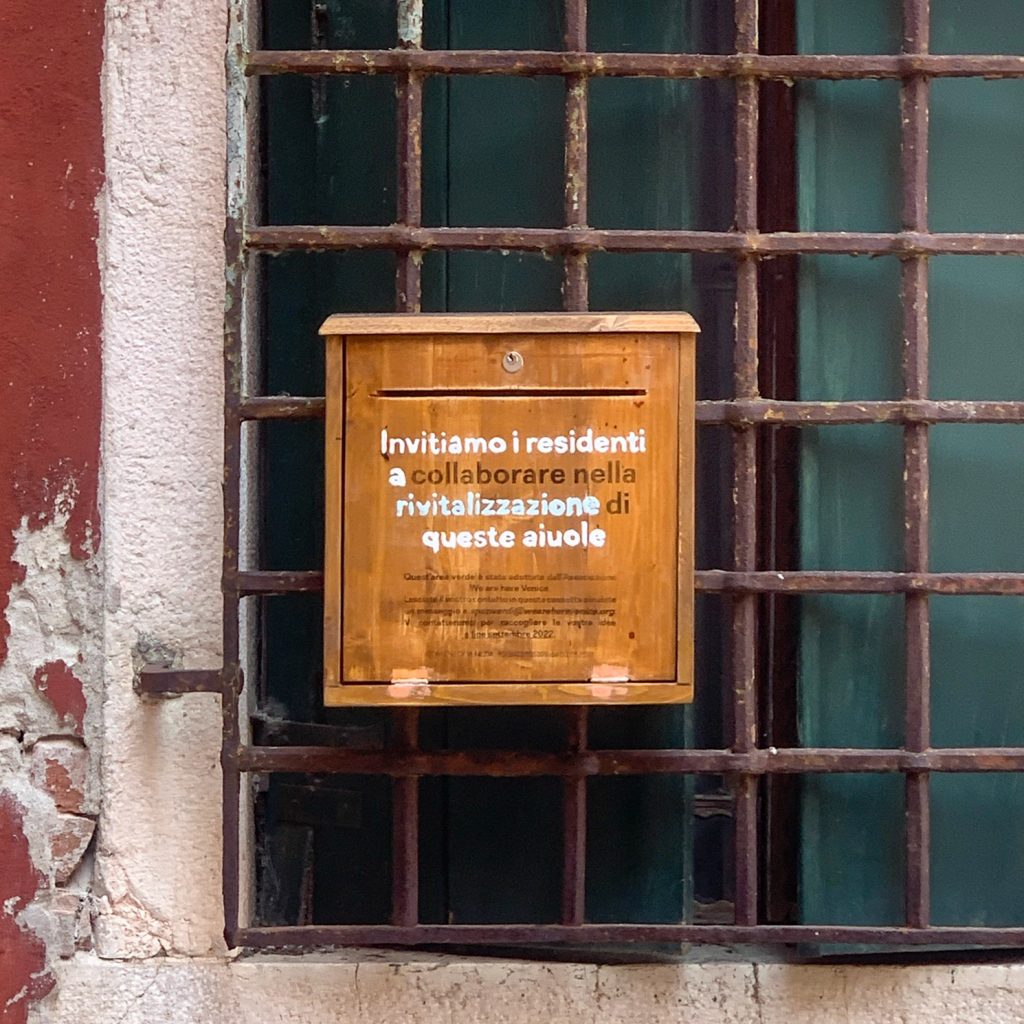 Photos of green spaces in Castello, by We are here Venice and Team Green Venice B21, Worcester Polytechnic Institute
More info at https://greenvenice.wixsite.com/green-space-catalog