We are here Venice is collaborating with Palazzo Polignac to raise funds for the community of Pellestrina.
Palazzo Polignac, which hosts cultural and musical events, held a fundraising concert on the 8th of December.
You can help the people of Pellestrina to rebuild their community by donating here.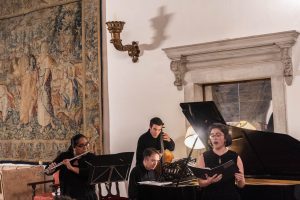 Donations will be used to investigate the causes of system failure during the dramatic floods of the 12th of November 2019 and explore the possibilities of effective flood defences within an objective and long-term framework.
Funds will continue to be raised throughout an exhibition held at the palazzo by French artist Samuel Yal.
You can also help Pellestrina by buying the book Ritorno in Piazza, with photos by Anna Zemella. The book is available online and in the concept store Edmond à Venise.
Jewellery designed by Alexandra Voltan can also be purchased in the shop, with a part of the funds going to Pellestrina.