WahV commissioned the Fondazione Ca'Foscari to carry out a professional survey among Venetian residents regarding a referendum to divide the Municipality between Mestre and Venice-islands and lagoon. [Historically, this is the way it was until the Mussolini era when the two realities were joined.]
The very interesting findings are in the summary report, attached. Six hundred telephone interviews were carried out between the 18 and 24 July 2016, balanced proportionately in terms of age and residence (Venice and Mestre).
Over 90% of those questioned already knew about the referendum initiative.
Approximately 70% think that a referendum would be the most appropriate instrument to address the separation issue. Of these, over 70% justified their preference along these lines: "it is a decision that affects everyone therefore it's right that everyone can express their preference". Others, almost 14%, said that they prefer citizens to decide on this matter rather than leave it to the politicians.
WahV is an NGO that, with support from Italians and the international community, endeavours to improve the quality of information necessary for the critical decisions affecting Venice's future. The outcome of the Fondazione Ca'Foscari study is an important element for better understanding the viewpoint of the local community, via an objective and statistically correct approach.
Gazzettino 13.9.2016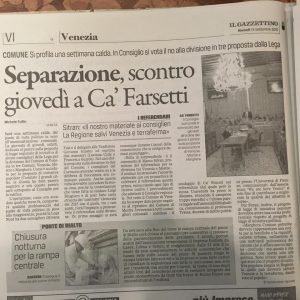 ---
Il Gazzettino 13.9.2016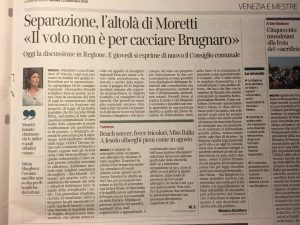 ---
La Nuova Venezia 1.9.2016

---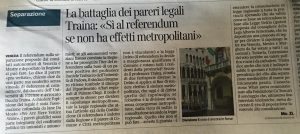 Corriere del Veneto 1.09.2016

---
La Nuova 5.8.2016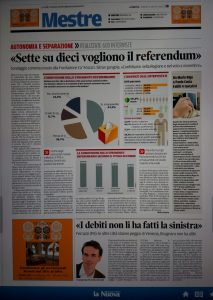 ---
Il Gazzettino 5.8.2016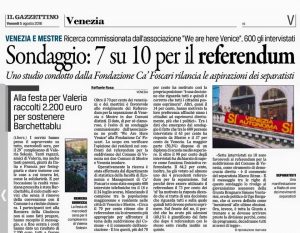 ---
Corriere del Veneto 5.8.2016