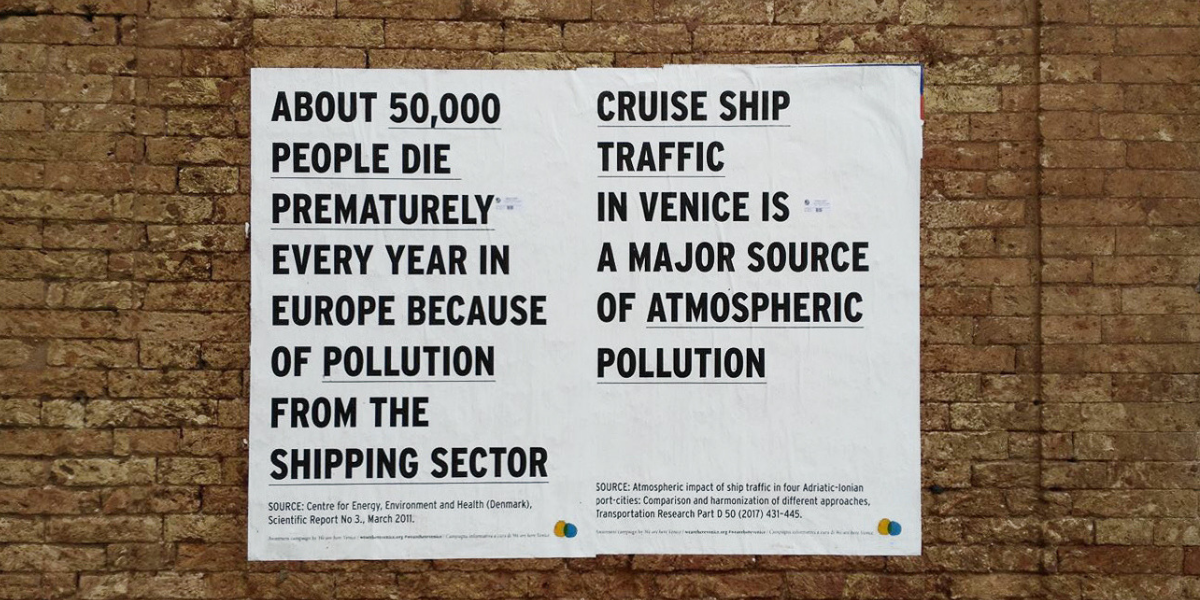 Our first newsletter marks the beginning of an exciting new phase for We are here Venice.
As the organisation grows in experience and confidence, we are taking this opportunity to outline our aims and our way of pursuing them.
We have embarked on significant partnerships with key institutions such as the Monuments Commission, Comune di Venezia, City Tide Forecasting Office (CPSM), V-A-C Foundation, British Council, Gallerie dell'Accademia and Liceo Europeo Marco Foscarini.
And, at the community level, we support and work with Cittadini per l'aria, Forum Futuro Arsenale, Associazione Piazza San Marco, Comitato No Grandi Navi, Italia Nostra, FAI and a number of Referendum Committees (all those in favour of changing the way Venice and Mestre are governed).
Ours is an artisanal approach, as best befits the city.
We are getting to grips with managing expectations (our own as well as those of our supporters), learning how to set parameters and survive funding challenges, but we are working towards a future that will see us able to apply for major grants and pursue longer-term projects.
OUR RECENT CONQUESTS, VENTURES, ENGAGEMENTS AND OUTPUTS
We are here Venice featured in The Times, the Financial Times and London Evening Standard advocating for Venetians and the importance of Venice as a living city also in relation to the XVI Architecture Biennale.
Watch the new trailer Connected, a salient project on sea level rise, featuring Jane da Mosto. We have also contributed to other major film productions: Anthropocene and Metamorphosis.
Laguna Viva at the V-A-C Foundation, Palazzo delle Zattere is now open! The installation, by We are here Venice and Turner Prize-winning collective Assemble, draws on the intimate and mutually dependent relationship between Venice and its context whereby 1000 years and 550 km2 of Venice Lagoon is compressed into a new public garden.
Numerous national pavilions, collateral events and parallel exhibitions are participating in our awareness-raising campaign to promote the safeguarding of Venice and evidence-based policy making, to coincide with the vernissage of the XVI Venice Architecture Biennale.
We are funding an internship at the Soprintendenza Archeologia, belle arti e paesaggio per il Comune di Venezia in collaboration with the Ordine degli Architetti and IUAV. The first of its kind, it gives an architecture student an unparalleled experience inside the Venice Monuments Commission.
An essential tide gauge to monitor water levels at the Misericordia is being restored as a result of our collaboration with the Municipality Tide Office (CPSM) and with support from the Korean Arts Council.
A partnership with the Royal Geographical Society, Eton College and Liceo Europeo Marco Foscarini has finally culminated in this valuable teaching resource on the future of Venice, featuring video clips, interviews and podcasts.
Our work on the 30 September Referendum to make Venice and Mestre two distinct city administrations is intensifying and support is growing exponentially.
Our project with the Gallerie dell'Accademia and the Accademia di Belle Arti di Venezia launches their first Artist Residency. View and share the recent call for the exciting new 3 month residency in Venice.
OVER THE PAST YEAR…
We have given over 60 talks and interviews
We have continued sharing our publications that provide essential information about Venice. The Venice Report and Acqua in Piazza can be requested on our website
We have sent out 5000 stickers across the world, to countries ranging from Australia to South Africa. Get yours here!
We have run five poster campaigns across Venice… with more to come! The emphasis has been on air quality and the importance of the lagoon for safeguarding Venice.
HOW TO SUPPORT US
We rely on donations to fund our work to safeguard Venice and advocate evidence-based approaches to policy making.
Members help cover our basic operating costs and bring extra insight into our work
For sponsorship opportunities to fund underexplored areas of academic research and specific project areas contact gabriella@weareherevenice.org